Mollii - The Inerventions Method
The Inerventions Method is based on stimulating the antagonist to the spastic muscle with a low level electric current. The aim is to trigger reciprocal inhibition, the body's own reflex, to reduce the tension in the spastic muscle and to help voluntary movement.
---
Current Clinical Studies on the Mollii Suit
Current and published clinical studies on the Mollii Suit are summarised by Inerventions AB, the creators and manufacturers of the Mollii Suit here.
---
'What is it like for children to use Mollii in real life?'
A published study by Nordstrom et al analyses the experiences of children using the Mollii Suit and their parents views on self-image, changes in performing activities and the pro's and cons of using the Suit in relation to Botox treatments.
The paper reports many positive responses in all areas from using the Suit and some expressed concerns. All users reported increased ability to perform leisure activities that they were involved with, doing them more easily and faster. Pain relief and improved sleep were also reported, benefitting children and parents alike. The Suit was also reported as a preferable alternative to Botox injections.
Click Nordstrom et al below to read the paper .

---
BACKGROUND RESEARCH ON MOLLII - An independent review of research on the neuro-physiological mechanisms the Mollii Suit uses and how it can be applied clinically for spasticity, dystonia as well as pain relief, is on the Latest Research link below. This review carried out by Dr Pennati, MD and colleagues, within the Karolinska Institutet, Stockholm, Sweden was completed in October 2017 and funded by Vinnova, the Swedish Government innovation agency. The review provides an understanding of how Mollii's type of sub-threshold, sensory electro-stimulation works based on current, relevant independent research.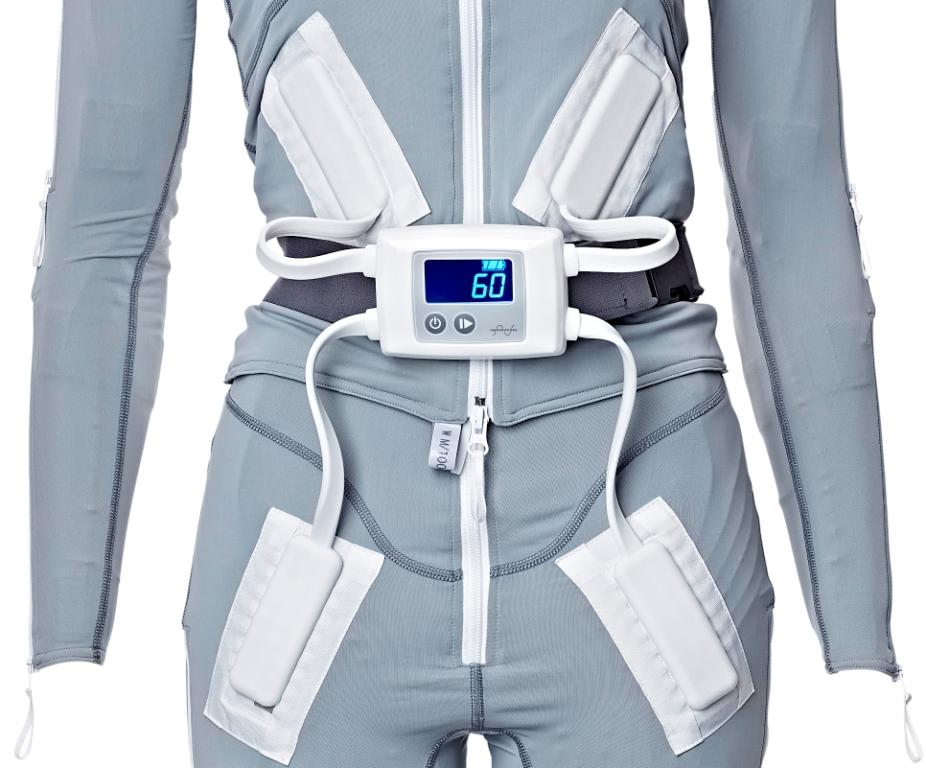 Reciprocal inhibition means that the body reacts automatically through inhibiting the antagonist to a muscle that is activated. Muscles are normally activated by nerve signals with the origin in the central nervous system, however, Mollii replaces these nerve signals with electrical stimulation from the electrodes.
Antagonist stimulation of individual muscles in patients with spasticity has been shown to lead to increased reciprocal inhibition, and different studies of antagonist stimulation measure improvements on the Zancolli Scale, grip strength, fine motor ability, range of motion, gait and posture etc. (Perez 2003, Wright et al. 2013, Chung et al. 2010, Scheker 2009, Ozer et al. 2006, Al-Abdulwahab 2009).
Antagonist inhibition can be used in combination with other types of treatments and assistive devices. One study shows that a treatment combining antagonist stimulation and orthotics in children with cerebral palsy reduced spasticity by more than the individual treatments did in the same group of patients. (Scheker 2009).
One obstacle to earlier research into the effects of antagonist stimulation has been the difficulties involved in stimulating multiple muscles in a way that is repeatable on multiple occasions. Connecting and disconnecting cables, electrodes and control units for such studies would be time consuming and laborious for researchers. Moreover, a larger study would require a number of patients to be treated on repeated occasions. The introduction of Mollii will now make it possible to conduct research into repeated antagonist stimulation in relation to spasticity in a way that is feasible.
During spring/summer 2012 Inerventions conducted two parallel projects together with researchers at the Karolinska Institute, partly to evaluate the clinical benefit of electrical muscle stimulation in connection with spasticity, and partly to assess the cost benefit of using treatment with the Inerventions method in the home environment instead of traditional treatments. The results of these pilot projects display excellent patient results in combination with opportunities for healthcare providers to make savings compared with the cost of today's care. Reports from these studies are available on the right of this page.
Despite the projects mentioned above and the improvements we have observed in our users, we are nevertheless acutely aware of the need for more research to measure and evaluate the effect of repeated antagonist stimulation of several muscles. Among other things, independent RCLs (randomized clinical trial) are needed. Inerventions is therefore currently funding an independent clinical research study in the form of an RCL of the effects of Mollii, which is being conducted on a large number of patients who are being followed over a period of several months. This study, which encompasses both the effect on patients and the economic aspects of the method, is also receiving state funding.
References
Perez, M. A., Field-Fote, E. C., Floeter, M. K. (2003). Patterned Sensory Stimulation Induces Plasticity in Reciprocal Ia Inhibition in Humans. The Journal of Neuroscience, 23(6):2014–2018.
Wright, P. A., Durham, S., Ewins, D, J et al. (2013). Neuromuscular electrical stimulation for children with cerebral palsy: a review. Arch Dis Child 97:364–371.
Chung, B. P. H., Cheng, B. K. K. (2010). Immediate effect of transcutaneous electrical nerve stimulation on spasticity in patients with spinal cord injury. Clin Rehabil 24: 202–210.
Scheker, L. R., Chesher, S. P., Ramirez, S. (1999). Neuromuscular Electrical Stimulation and Dynamic Bracing as a Treatment for Upper-Extremity Spastcity in Children with Cerebral Palsy. Journal of Hand Surgery 24B: 2: 226–232.
Ozer, K., Chesher, S. P., Sheker, L., R. (2006). Neuromuscular electrical stimulation and dynamic bracing for the management of upper-extremity spasticity in children with cerebral palsy. Developmental Medicine & Child Neurology 48:559–563.
Al-Abdulwahab, S. S., Al-Khatrawi, W. M. (2009). Neuromuscular electrical stimulation of the gluteus medius improves the gait of children with cerebral palsy. NeuroRehabilitation 24:209–217.
Try Mollii - call us on 01730 269 000 or contact us below.
Inerventions AB, Sweden